Here you will find all the available screens in your app. You will find here the default screens that were automatically created according to the business type you choose when creating the app, but they are fully editable.
You can choose whether to show or hide any screen by clicking on the EYE icon. To change the order of appearance, simply drag and drop the pages as you wish.
Order these pages as you would like to see them in your menu bar
There are 2 types of pages: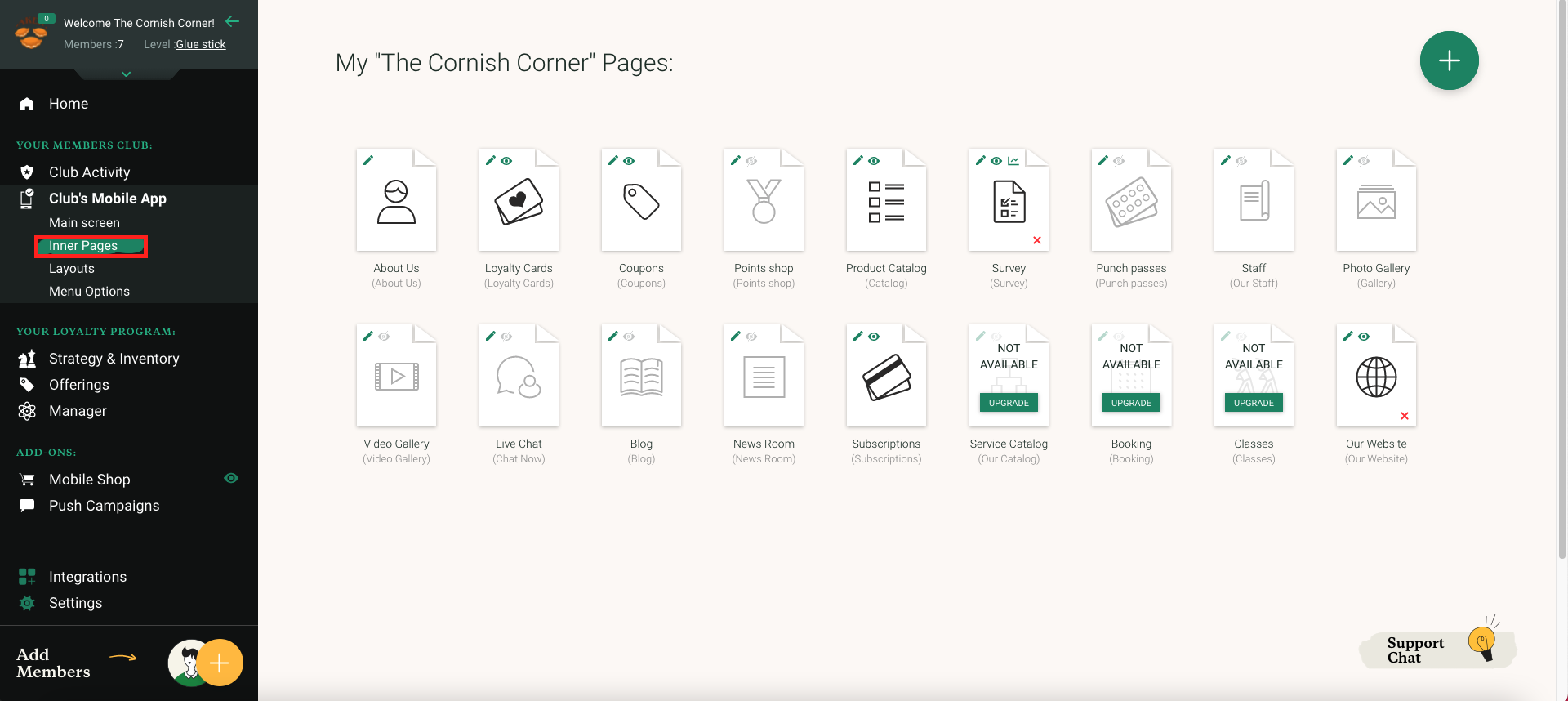 Content Pages
Content pages
These pages enable you to tell the story of your business with videos, images, audios, text, phone, locations and more. These kinds of pages can be editable right from the Content tab.
Types of content pages: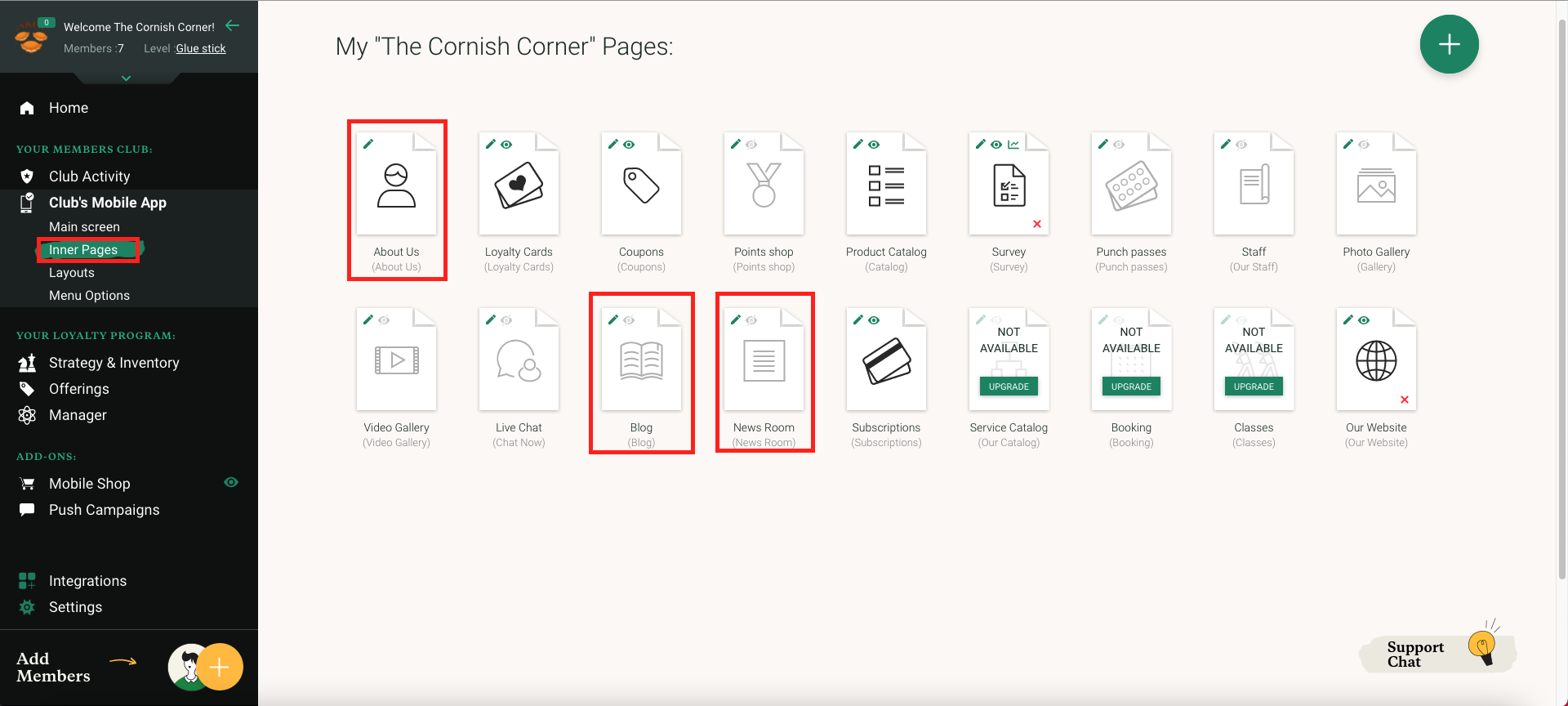 Features
Features
A content page's purpose is to showcase information while the purpose of the feature is to engage clients to perform an action, for example, to make a purchase, book an appointment and more. A content page is editable and manageable from the Content tab while most features have their own management section located on the left menu. For Example: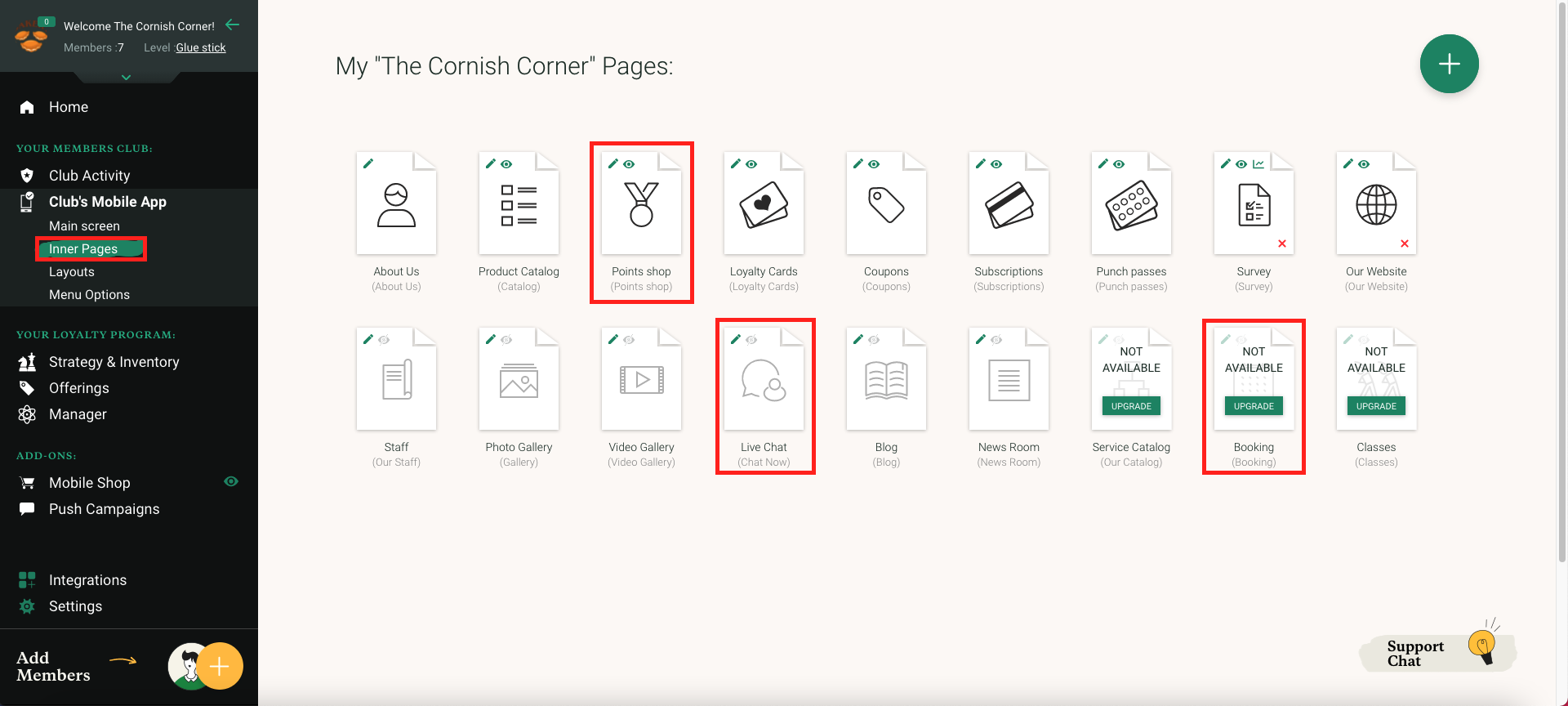 Pages that are not editable and manageable from the "App Pages" tab:
Booking
Live Chat
Mobile Shop
Loyalty Cards
Coupons
Point shop
Classes
These pages are editable by following the link displayed on the screen when you open the icon in the app page. (Example) From the screenshot above we have chosen 'Loyalty Cards', within this page there is a link to bring you to "Loyalty Cards" where you can create and edit your own loyalty cards.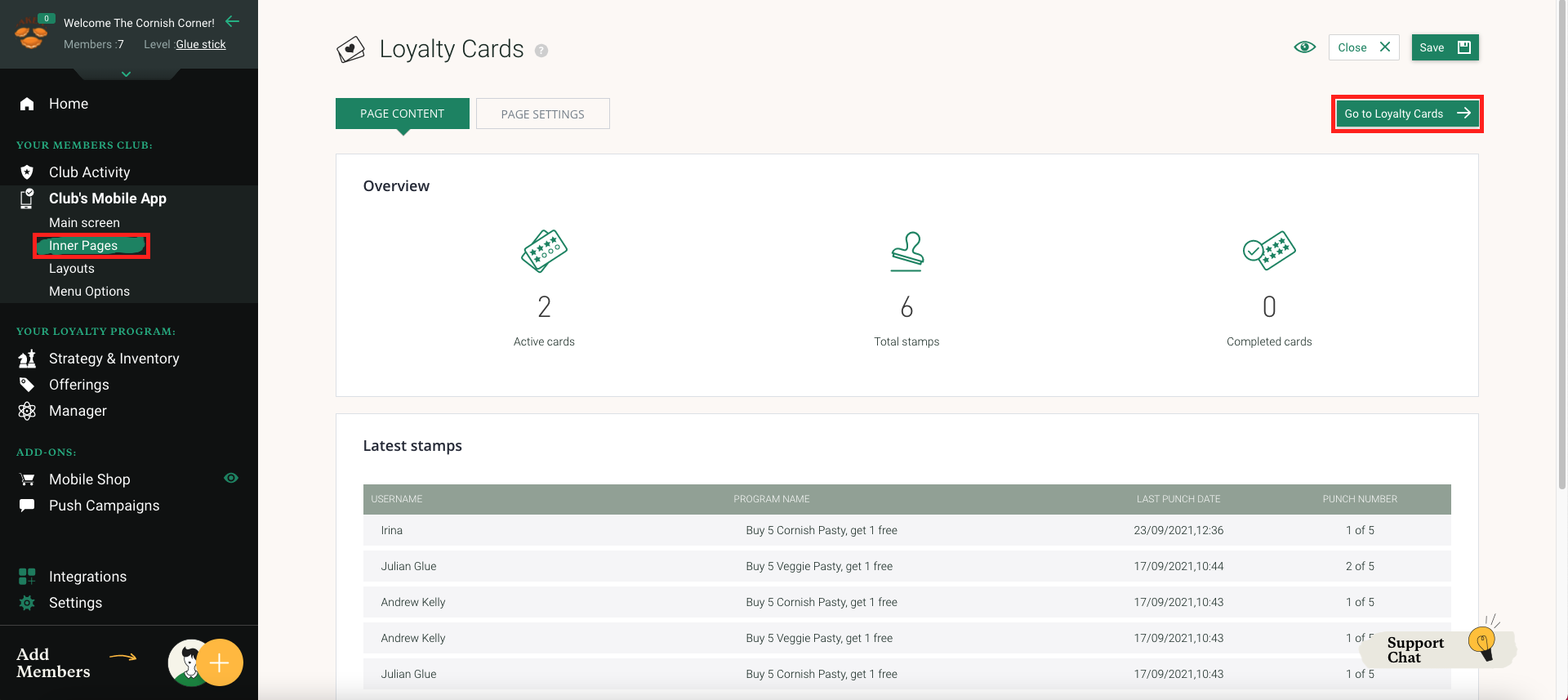 Create an "About Us" page
You can customise this page with media and text formats:
Image
Paragraph
Youtube Video
Audios and music streaming from Soundcloud for example
Images slider
Website link
Location
Phone
PDF files
Large text
And quotes
You can add these elements as many times as you want.
Simply click on the element you want to add and submit the required fields.
You can always change the order of the elements with a simple drag & drop.
When you finish, click Save.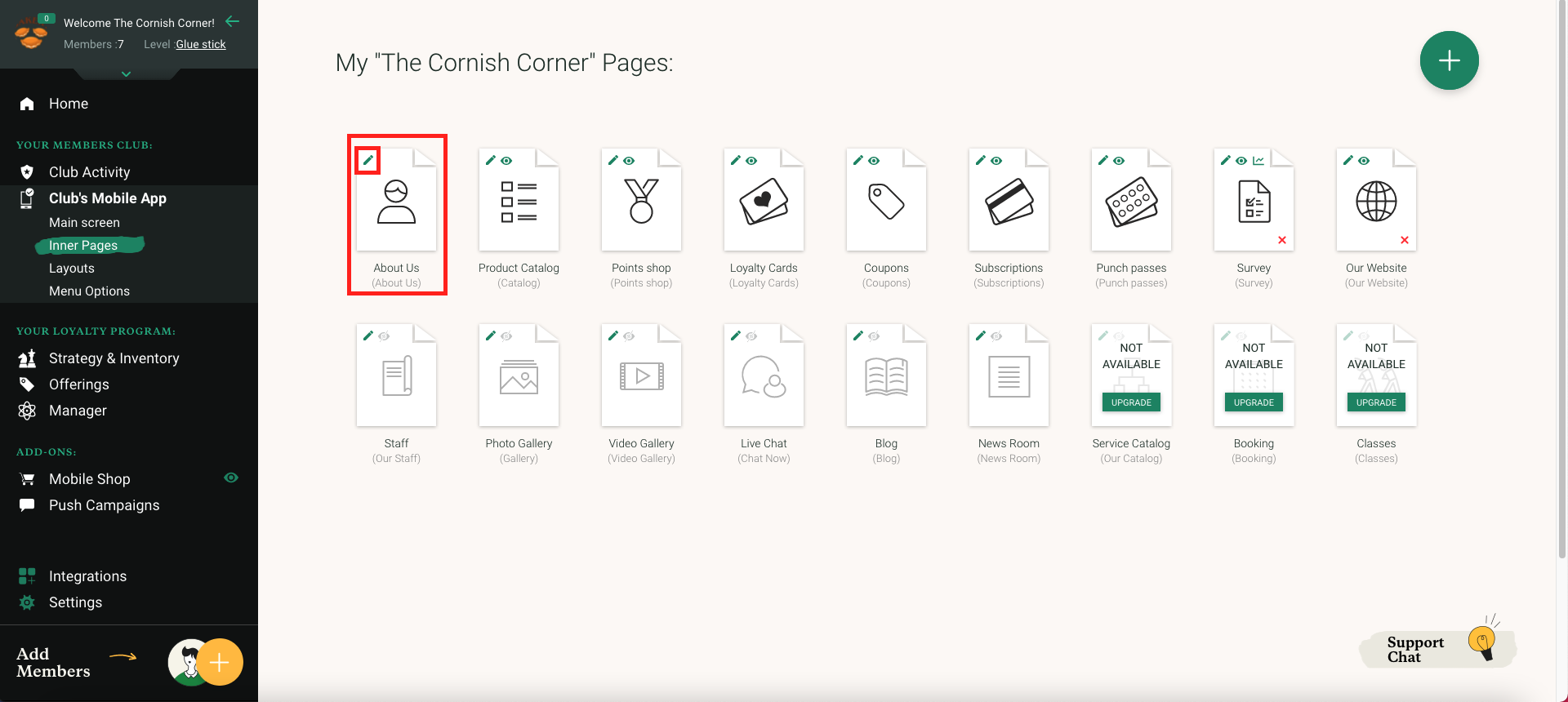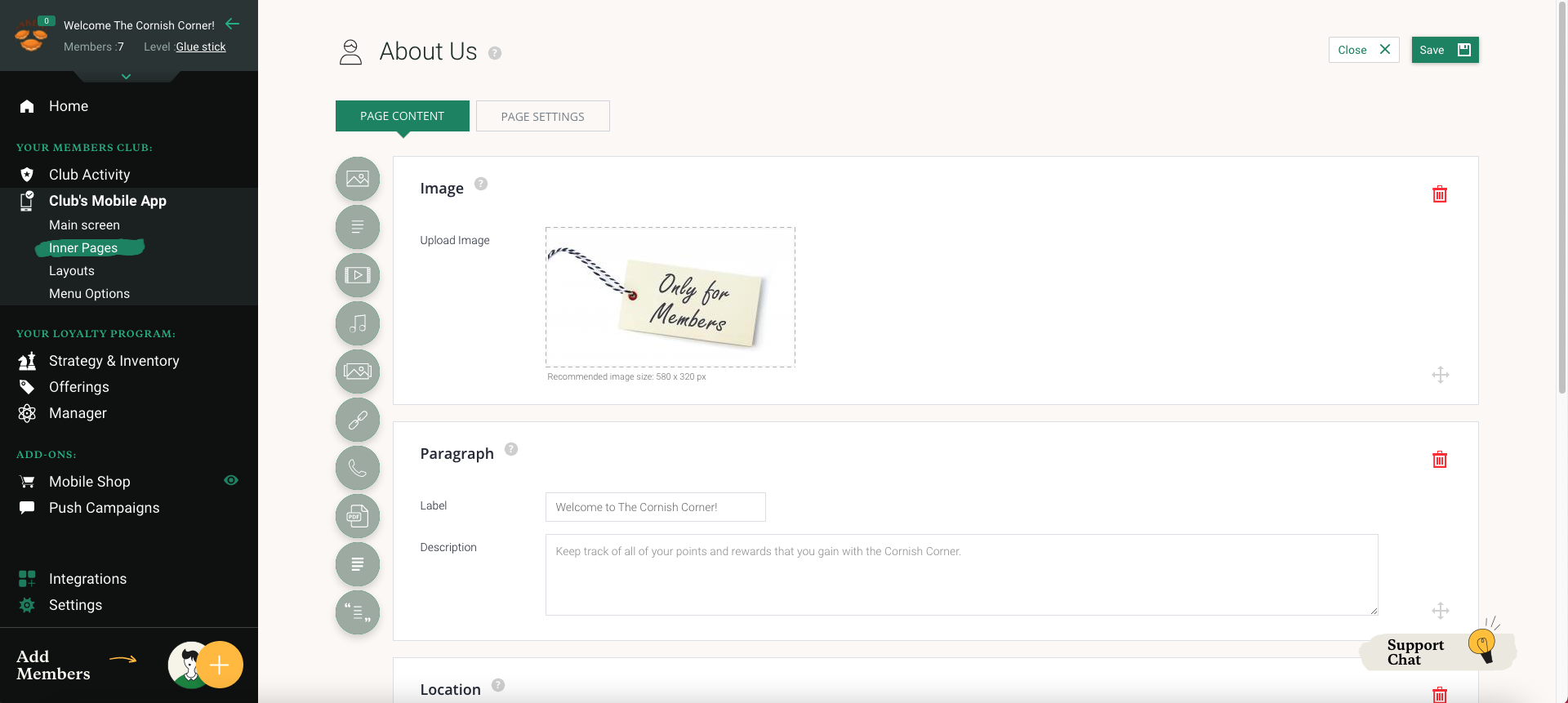 Creating your Loyalty Manager with Glue is the easy part, writing the content for your app requires a bit more attention.
Your "About Us" screen is your app's first impression for your clients, therefore, you would like it to be interesting and "eye-catching".
You would need to include enough information about your app, yet still, be short to the point.
We've collected some tips which will help you write an impressive "About Us" screen and gain more potential clients:
Use Facts – Talk about your business or your service, how long you have been in business or for how long you are providing this service, who are your clients, where are you located, etc.
Make It Personal- Show that there is a human behind the phone screen. Write about yourself, and while you are using facts, don't make it robotic – make it conversational.
Be Unforgettable – You want users to remember your screen from all the screens they read. For example: write why did you start your business or why did you decide to create this app, include a quote, your motto, or something inspirational.
Keep It Short- Keep a length of 300-500 words.
Show Your Added Value – If your app solves a problem, focus on the problem and how this problem can be solved with your service. In other words, what will the person gain from using your app? What is the "added value" that you provide?
Know Your Audience – You know who your audience is and what they like. Talk to them. Make them understand that you are reachable through this app.
After following those tips, the last thing to do is to double-check your content:
Ask an honest friend to read what you've written. By honest friend, we mean a friend who will tell you exactly what he/she thinks, as a potential client.
After testing your screen content with people you know, ask a few people you don't know to read it and give you an opinion. Ask them if they would download your app after reading your "About Us" screen.
If needed, make changes according to their feedback.
Now that you've tested your content and got much feedback, you are ready to take your most important screen content from good to impressive and memorable!