The competition in the beauty industry is high, and it takes more than just prices to stand out from the competition these days. Both new and loyal customers alike expect top-notch service and a seamless experience from scheduling to checkout.
In this article, we break down the top four things you need to prioritize to create the ultimate experience for beauty fans.
1. Easy Scheduling
While there are customers who like to speak with someone over the phone to make appointments, many customers prefer the convenience of booking their reservations online. According to research from GetApp, 94% of those surveyed would be more likely to choose a new service provider if they offered options for online scheduling.
Some customers have schedules that simply don't allow them to call your salon during business hours. Other clients just don't like talking on the phone or having to be placed on hold. Online scheduling gives your customers the flexibility to make appointments on their time, whether it's on a holiday or in the middle of the night.
This extends beyond just making appointments. Your online scheduling system should also allow customers to easily modify, reschedule, or cancel their appointments if needed. There are times, especially in last-minute situations, when calling the salon may be necessary, but giving customers the ability to make the changes to their bookings online takes away a lot of frustration on their side.
There are a variety of scheduling software providers on the market, so make sure to do your research on which ones have the capabilities you're looking for. Read reviews from users to see which platforms work well for salons and which don't.
2. A Memorable Experience Outside the Chair
You don't necessarily need to send out weekly newsletters or constant updates to your clients – the last thing you want to do is to annoy them. However, you also don't have to disappear once your client checks out for their appointment. Periodic communications can give your customers a nudge to return or make them aware of new services that are available.
Here are some ways you can stay at the top of your customers' minds until their next appointment:
Stay active on social media and post consistently so your followers stay engaged

Send out periodic email communications to share offers or product launches

Provide exclusive offers to encourage customers to book their next appointment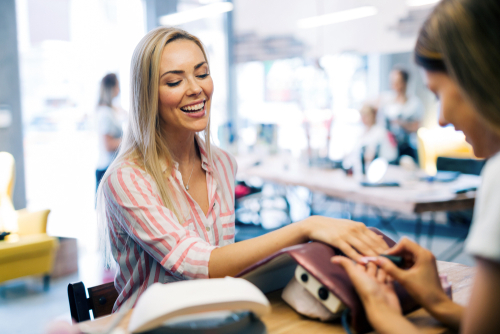 3. Trendy Products & Services
Trends always come and go in the beauty world, but staying up-to-date with the most popular looks can help you attract customers who want to try out new styles. There's no need to try and capitalize on all of them, but keeping your eye open to trending hairstyles, nail designs, or makeup looks will show customers that you keep up with the industry.
Being active on social media can help you know when new trends emerge. Consider following influential users or channels that consistently release new content. You can also subscribe to relevant categories or follow hashtags to see new content in your feed from different users.
Not every salon will be able to accommodate customers who want these trending styles or designs, so offering them can help you get ahead of the competition.
4. A Personal Connection
Going to the salon is often a social experience. It's not uncommon for clients to form friendships and connections with their stylists or nail technicians. Over time, service providers know what their clients like, and during those couple of hours when the client is sitting in the chair, there are typically engaging conversations going on.
When you establish that trust with your customers, you want to maintain that loyalty and show them that you appreciate their business. In addition to providing high-quality services, creating a loyalty program with personalized offers can make your customers feel special. This can be a discount on a haircut for their birthday, or a complimentary add-on to a nail service when a customer has booked a certain number of services.
The options are endless, and using the right rewards program can help you to figure out the best way to reach your customers and figure out what they like.
While creating a rewards program can seem like a task that takes a considerable amount of time, using an  autonomous white-label loyalty program like Glue takes away the stress of trying to figure it out on your own. You're able to choose from a variety of loyalty features like rewards, loyalty cards, points-earning systems, and more. Plus, Glue's program integrates with popular platforms that you use for your small business.

Ready to try it for yourself? Glue offers a free plan where you can experience the different features available.