Within 'Activity' of 'Automation' you will be shown your Loyalty Cycle.
This will allow you to see how your clients move up your sales funnel and get full statistics information on clients' engagement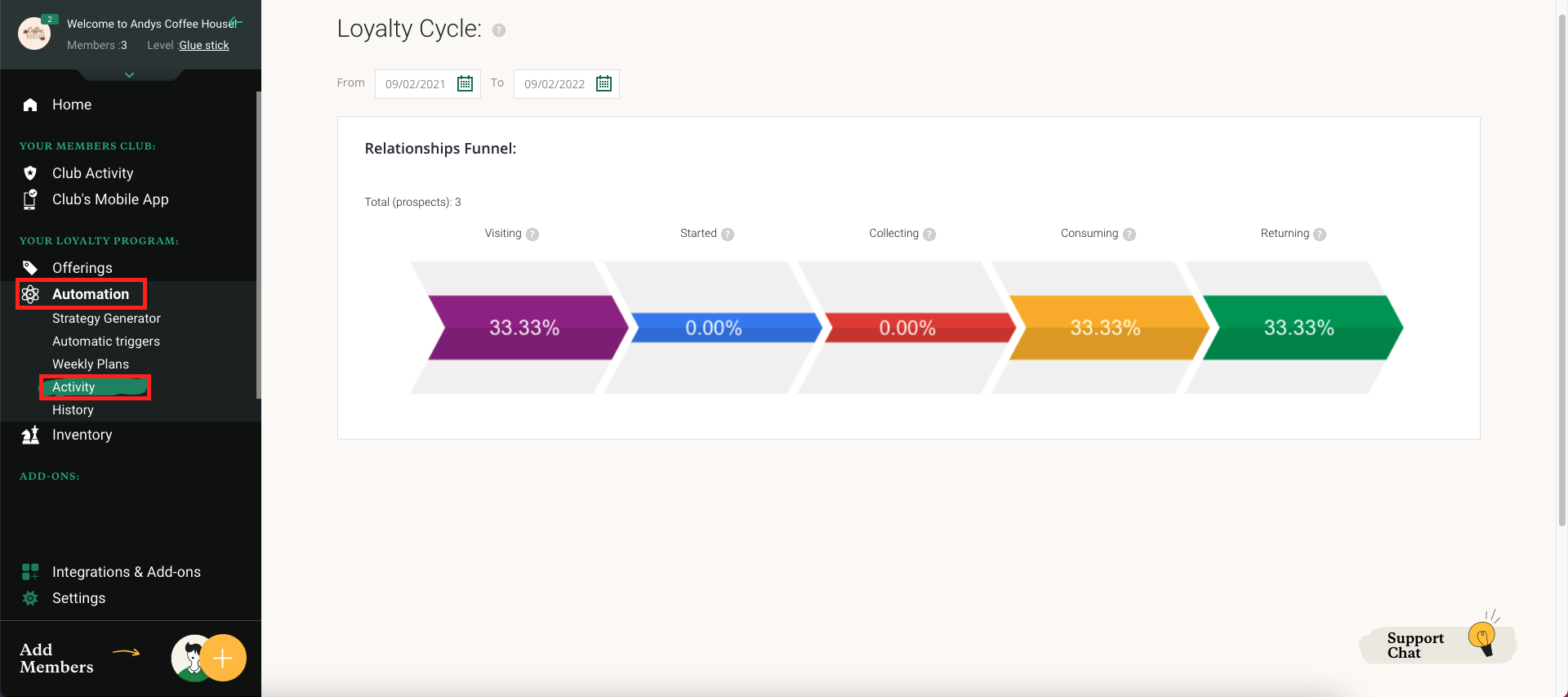 Your Relationships Funnel breaks down your sales funnel into 5 different stages. They are as follows:
Visiting
Started
Collecting
Consuming
Returning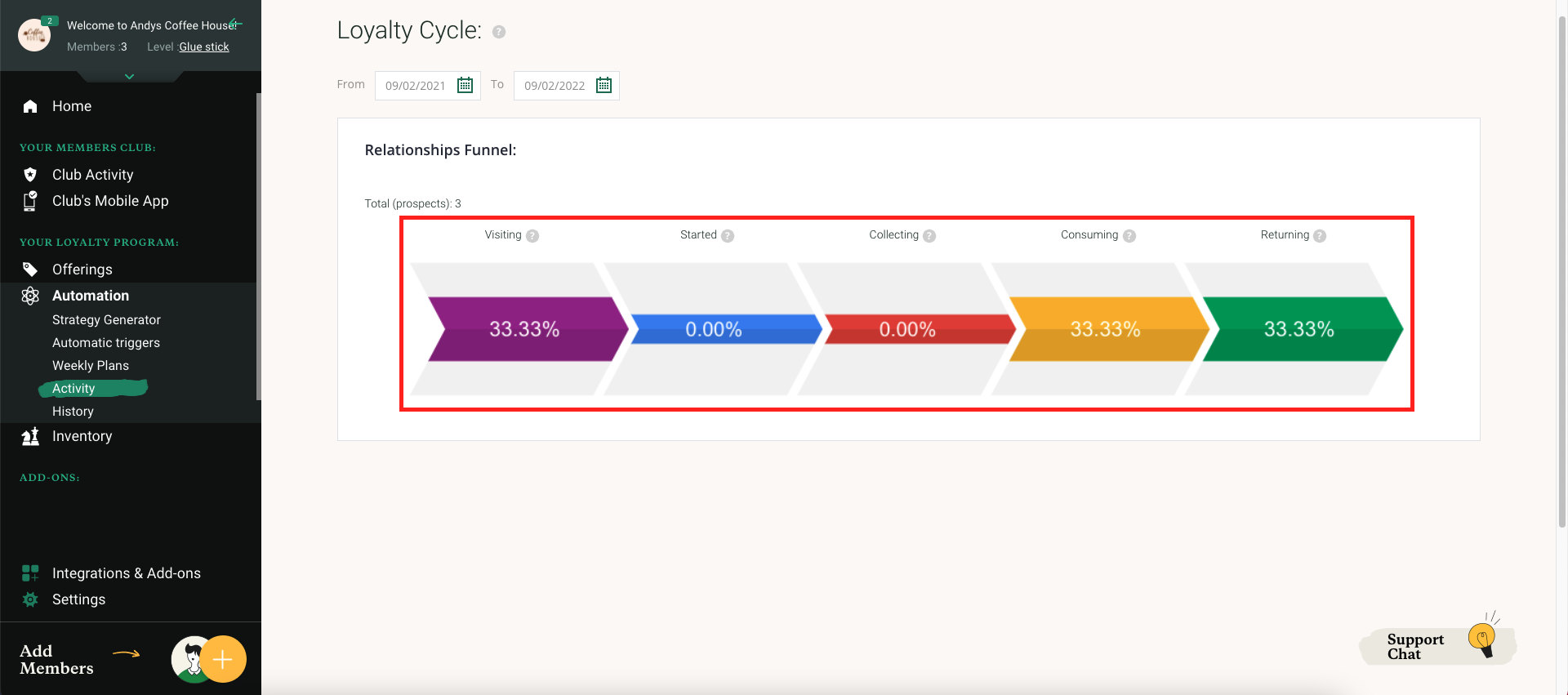 Visiting:
This shows how many people installed the app but haven't registered as club members. The people shown here are currently exploring your app as guests.
This will show the visit trends for both Android and iOS, the average amount of entries per visitor and the amount of points granted.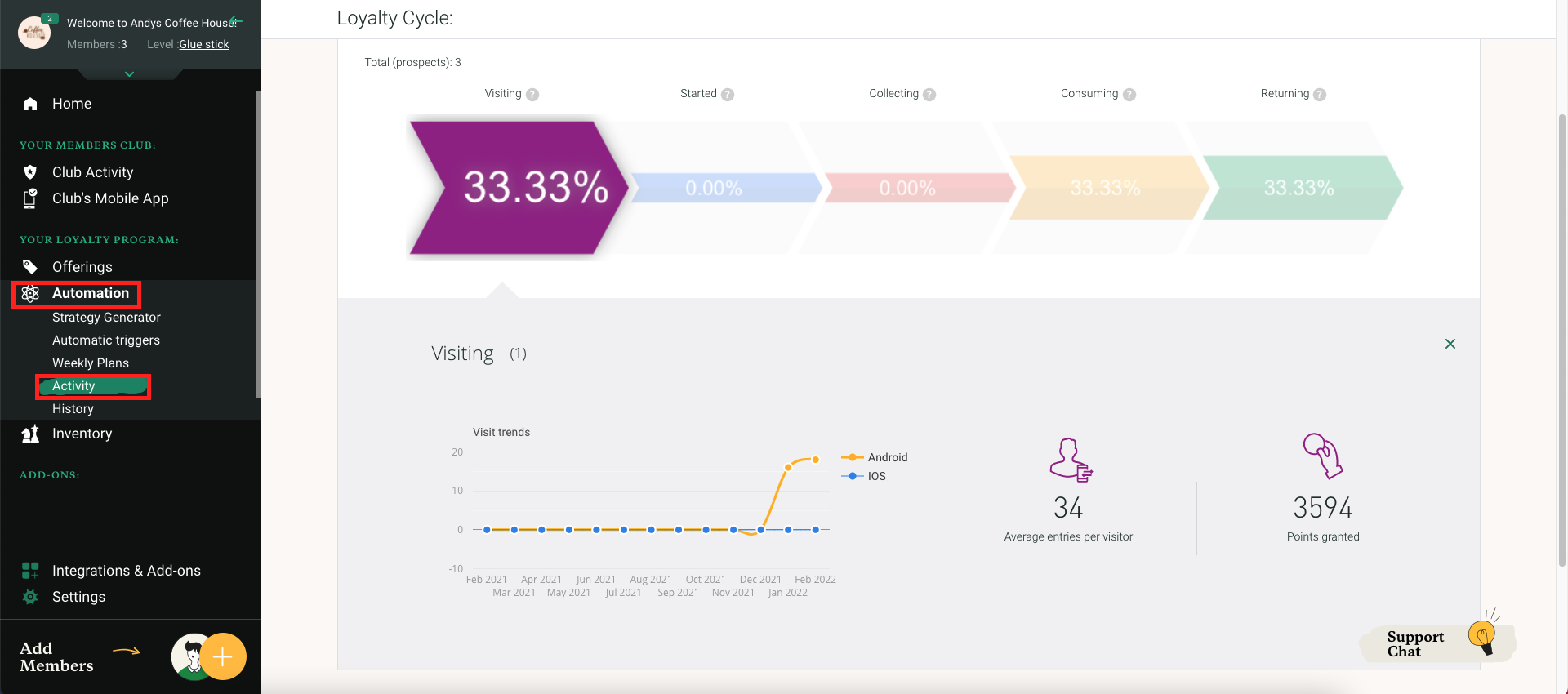 Started:
This is the next stage for the people that do register and join your members club. Any points that they collected as quests can now start being used.
This will show you the total amount of people that have registered to your members club, the average amount of points per member, the amount of scratch card wins and the average entries per member.
You will also have a graph to show you the amount of points earned by events and the different event names will appear at the bottom of the graph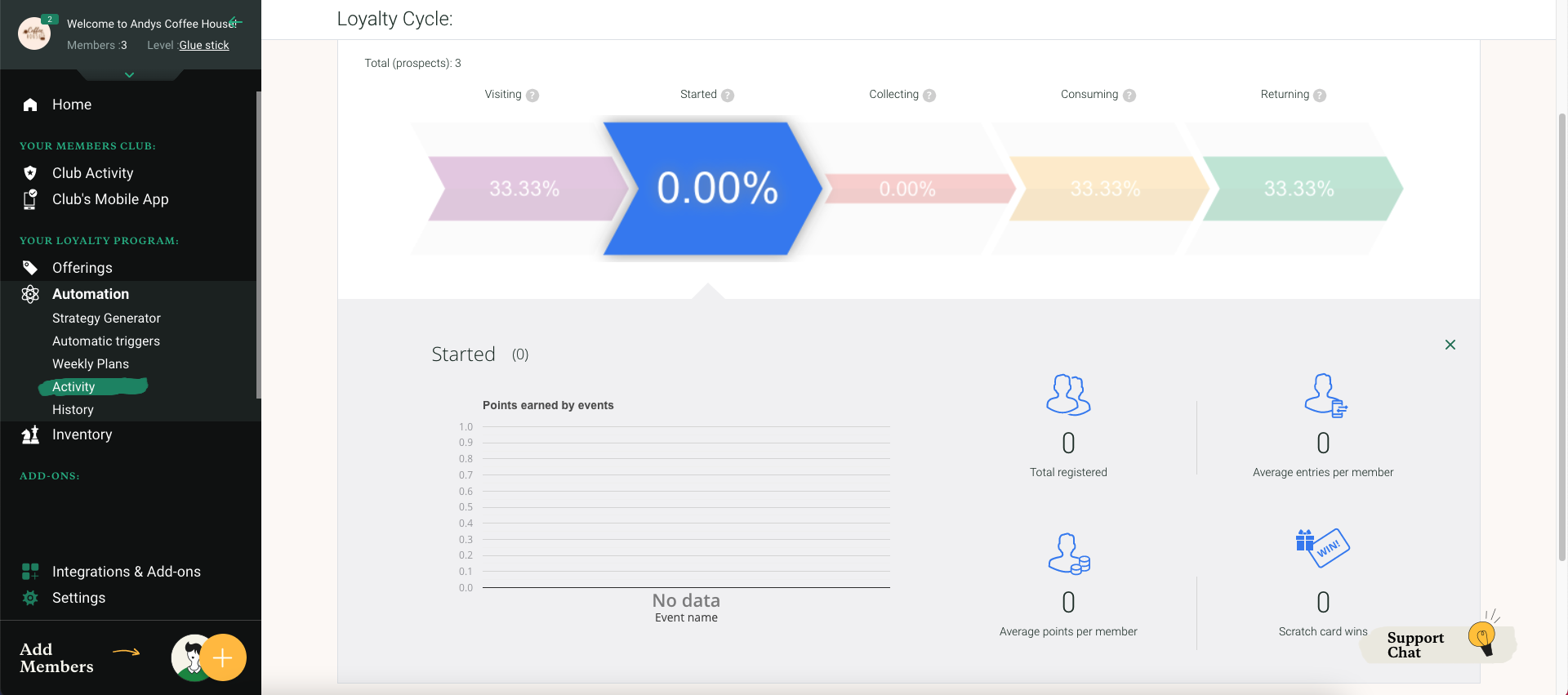 Collecting:
This will show club members that have collected at least one reward or managed to collect enough points to upgrade to the first membership tier
You will have a graph that will show the amount of membership upgrades per membership tier (which is shown at the bottom of the graph)
You will also be shown the total amount of rewarded members and the average rewarded members entries as well as the reward sources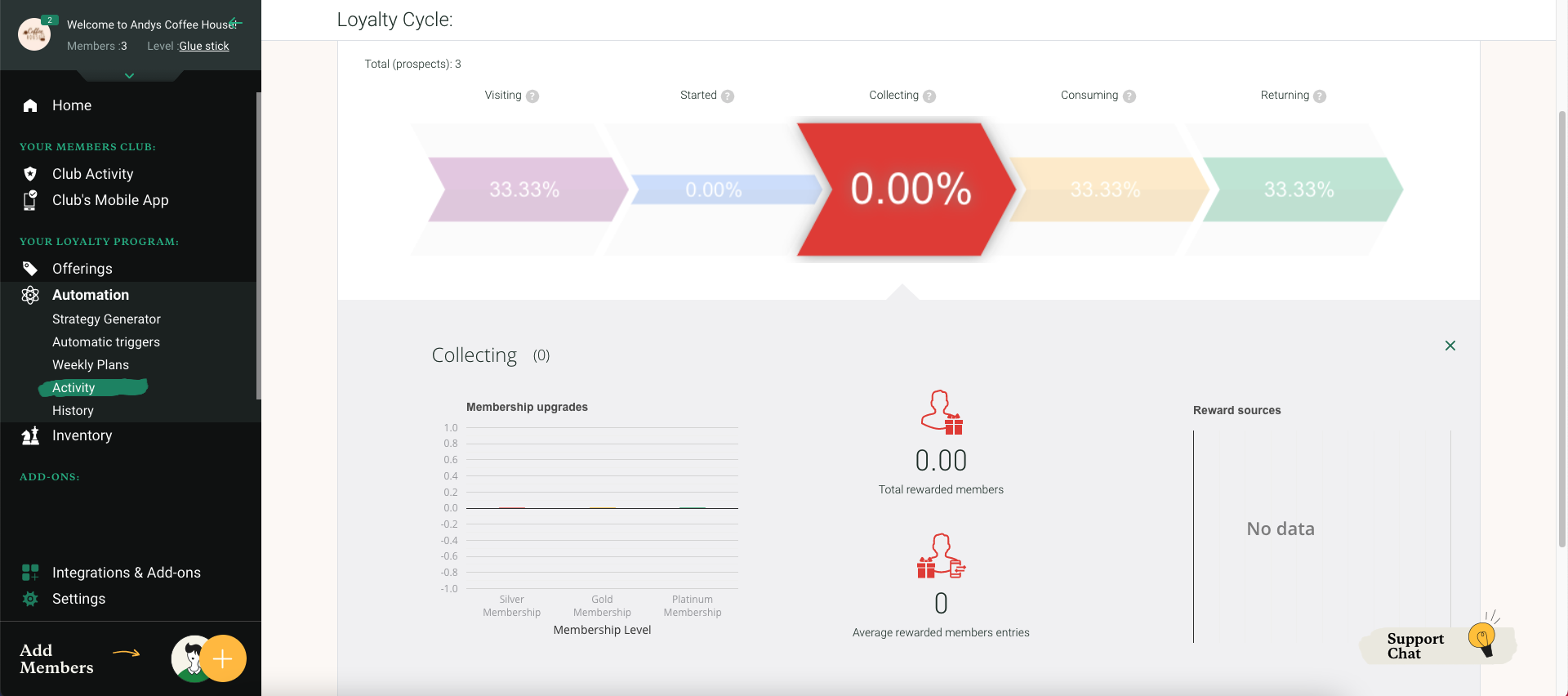 Consuming:
This tracks your club members that perform their first transaction within your app (Booking, Ordering, Paying etc.)
Once a client performs more than one transaction, the transaction is removed from these statistics info and moved to the next section, as part of 'Returning' statistics.
You will be shown the amount purchased with points and the received membership discounts (this is based on membership tiers)
You will also be shown a graph that will show the transactions by type (Bookings, Classes, Coupons, Items etc)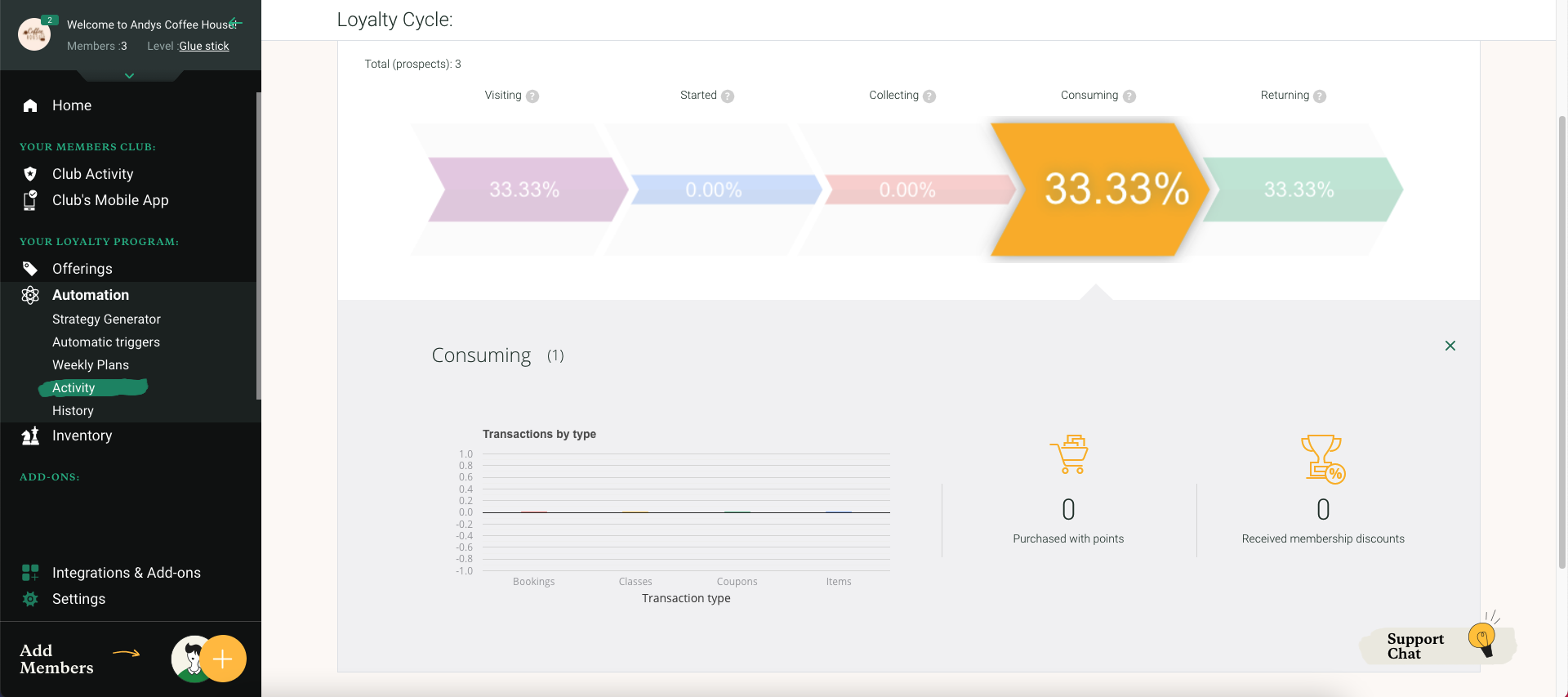 Returning:
This tracks the club members who have performed several transactions in your app and keep coming back for more
You will be shown the average amount of transactions, the average spend per purchase, the average revenue and purchase per member on a monthly basis, monthly entries per returning member and the ratio between entries and transactions